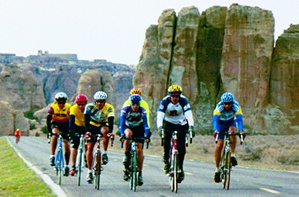 Tour de Acoma is a 100, 50, and 25-mile cycling event covering distinct and breathtaking scenery on the Acoma Pueblo Reservation. The all paved course offers both the experienced and recreational cyclist a rare opportunity to ride through competitive and challenging race routes. This spectacular and enjoyable event is definitely one to consider.
TOUR DE ACOMA 2023!
(click below for larger version)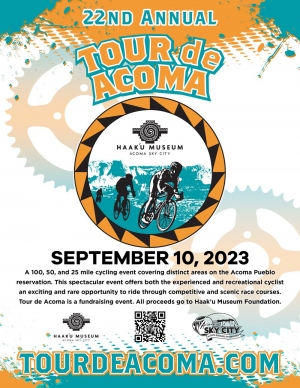 Tour de Acoma is a fundraising event.  All proceeds go toward the Haak'u Museum for continuous educational gallery exhibits that showcase the unique history of the Acoma community.
* * * Registration will start July 1, 2023 * * *
Booking a room at Sky City Casino/Hotel?
Call them directly at 1-888-SKYCITY
THANK YOU
to our 2023 sponsors!
For additional information contact:
Maureen Chavez
(505) 552-7862
* * * * *
FOLLOW US!  

---
Contents © 2021 Acoma Business Enterprises.